Image 01

Image 02

Image 03

Image 04

Image 05
Mass Schedules
Sunday Anticipated Mass
5:15 pm (Saturday) in Basilica
Sunday
8:00am in Basilica
9:30am in Basilica
11:00am in Basilica • Livestreamed here
12:30pm Spanish Mass in Cathedral Chapel
6:30 pm in Basilica
Monday to Friday
7:15 am in Cathedral Chapel
12:05 pm in Cathedral Chapel
Saturday
12:05 pm in the Cathedral Chapel – Miraculous Medal Novena prayers recited following the 12:05 pm
Don't miss Mass when you are away from home. Find churches in the US and abroad at:
• CatholicMassTime.org
• Masstimes.org
Sunday Mass recordings available online
Sacrament of Penance and Reconciliation
All Confessions in the Cathedral Basilica
Monday-Friday: 11:30 AM
Saturday: 4:15-5:00 PM in Basilica
Sunday: 9:00 AM and 5:30 PM in Basilica
12:00 PM in Spanish in Chapel by appointment
La Santa Misa en español y los Sacramentos
• La Santa Misa es celebrada en español los domingos a las 12:30 PM en la capilla de la Catedral.
Para los días de precepto por favor mirar el boletín parroquial.
• El Sacramento de la Reconciliación o Confesión se celebra en español de 11:45 AM a 12:15 PM pm los domingos en la Capilla.
• Presione aqui para ver informacion de los demas sacramentos: celebración del Bautismo, Communion, Confirmacion, Matrimonio, y uncion de los enfermos.
• Para programar una visita al hospital, para recibir la Comunión, y para la Unción de los enfermos, por favor llamar a la oficina parroquial al 215-561-1313.
• Eventos de interes: presione aqui.
Bulletins
Artcinia Music in Your Neighborhood – Sunday, June 4 at 3 PM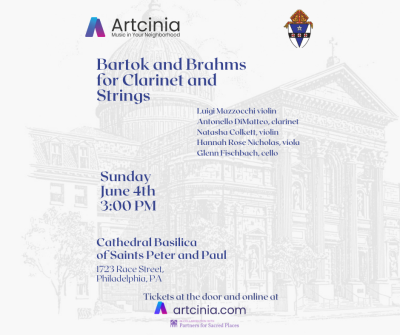 CANTATE DOMINO- July 10-13, 2023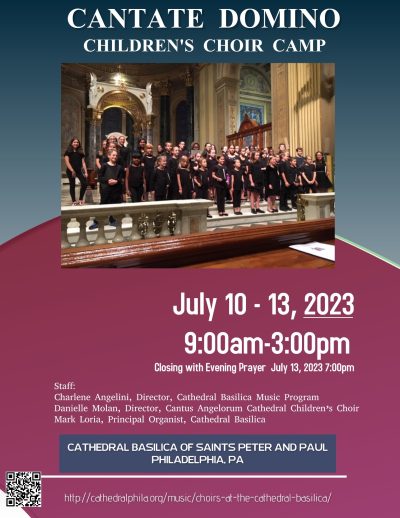 EUCHARISTIC CONGRESS
Ministry and Volunteer Opportunities
You are cordially invited and encouraged to consider sharing your time, talent and treasure with your Parish and your fellow Parishioners by volunteering for one or more of the parish ministries, committees or groups. Please contact the Parish office at 215-561-1313 for more information.
Events for Young Adults
How do I…
TOUR THE CATHEDRAL BASILICA