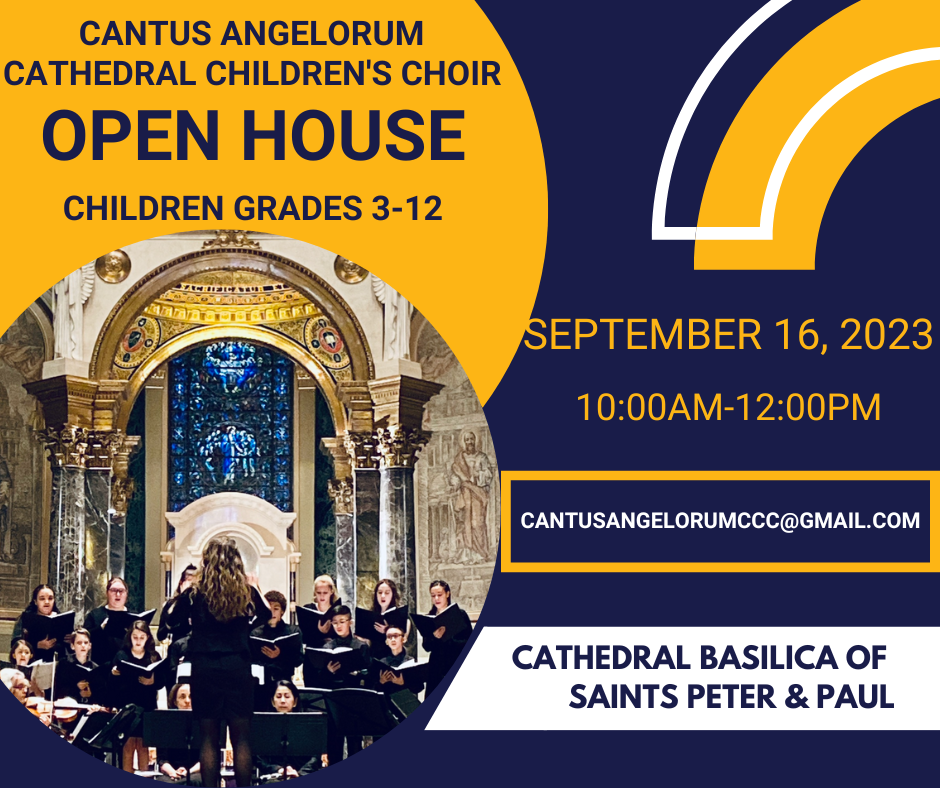 FALL 2023
Cantus Angelorum Cathedral Children's Choir Schedule 2023-2024 Click Here
Spring 2023 Video Click Here
The Cathedral Basilica Children's Choir offers a unique opportunity for young choristers to assist in the liturgy at the Mother Church of Philadelphia once a month at the Cathedral Basilica of Saints Peter and Paul. Children from all over the Archdiocese come together in faith and fellowship to learn proper singing technique, choral blending and advanced musicianship through varied choral repertoire. They are given the opportunity to learn how to truly sing the Mass, with chanting as an integral part of their studies. This choir also accepts invitations from parishes across the Archdiocese to sing for liturgies of particular significance to the parish community and they perform in concerts both in the greater Philadelphia area and beyond. They were an important part of the World Meeting of Families and Papal Masses in September 2015, and traveled to Rome to sing for the Pope as part of the International Children's Festival for Epiphany 2016.
Danielle Molan, Director
Danielle is happy to be embarking on her seventh year as part of the music staff at the Cathedral,
directing the Cantus Angelorum Cathedral Children's Choir. In addition to this, she is the Director of Choirs
at The Shipley School. She also is the founder and director of Epiphany Singers, a
choral ensemble in Philadelphia consisting of young adults.

Prior to her current positions, Ms. Molan studied music at West Chester University and Westminster
Choir College, earning degrees in music education and sacred music. Since then she has worked with
children grades Kindergarten through twelfth in many capacities, as well as college singers while directing
the Rooke Chapel Vocal Ensemble of Bucknell University. She is also certified in both Kodaly
and Orff methodologies, regularly incorporating these methods into her rehearsals. She loves working
with young voices and molding them into the best singer/ musicians they can be!
Rehearsals are held two to three Saturdays per month, 10 AM – noon. Children may audition beginning in Grade 3. Tuition is $200 for the year (Sept. – May). For more information and to schedule an audition, please email Charlene Angelini at cangelini@archphila.org