The Cathedral Basilica Wedding Guidelines help couples understand what to expect when making a decision about holding their ceremony at the Basilica. We ask that couples carefully read and consider all of the requirements. A minimum of six months advanced planning and preparation prior to the wedding date is required.
The 2025 calendar for weddings will open on Monday, February 5, 2024.
Requirements:
If a couple is not a member of the parish, they should request a letter of permission from their home parish to be married at the Cathedral. Please do not send the letter to the Rectory Office. Bring it with you when you meet with our priest. Have your letter of permission mailed to you.  We cannot hold letters sent to the Parish Office before you meet with a priest.
Once the letter has been obtained, please call the parish office at 215-561-1313 to schedule an appointment with a priest. 

The 2024 Calendar is open.

 The engaged couple may call the office to make an appointment with a priest.
Date availability will be discussed with a priest during the first appointment. The Mass may be bilingual; please let the priest know if you would like that
Weddings will be planned between the engaged couple and the priest. Please don't have wedding planners or family call.
At that appointment, please bring the letter of permission with you and a non-refundable deposit in the amount of $500 which is required to reserve the date for the wedding. See below for total fees.
Weddings are normally scheduled for Fridays at 2pm & 4 pm and Saturdays at 11 am, 1 pm and 3 pm. Due to certain religious services throughout the year in the Basilica, particular days may not be available for weddings. You have the option of having your wedding in either the Basilica or the Chapel. Fees for each are listed below.
Please do not leave voice mail messages regarding requests for wedding dates. 

No requests will be taken before the book opens.
OFFERINGS AND FEES:
Basilica offering: $2,500 ($500 deposit + $2000 balance)

Cathedral Chapel offering: $1,500 ($500 deposit + $1,000 balance)

Music fee for Cathedral organist and cantor: $600 (not included in wedding offering)
Musicians serving at your wedding are from the Cathedral Music Department. The Cathedral employs both a Principal and an Associate Organist, and maintains a roster of professional singers. Therefore, no outside musicians are permitted to perform during Cathedral weddings. Your Music fee includes an organist and one singer.
---
Scheduled Weddings at the Cathedral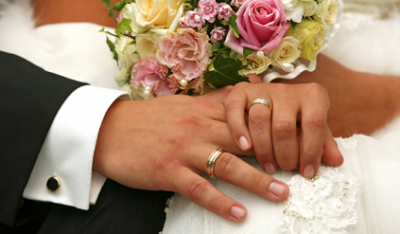 The information below is for couples who have already scheduled a wedding with one of the Cathedral Parish Priests
Marriage Preparation Information

Documents, certificates, wedding Mass or Ceremony, and other important information.

Marriage Preparation Sessions
Liturgical Preparation    

These files can be used to help with the selection of readings for the wedding liturgy and with the preparation of the universal prayer. Please consult with the Cathedral Parish Priest responsible for your wedding before making any selections: