The Advent Giving Tree in the Basilica is decorated with gift tags which identify gift ideas for the less fortunate in our area.  This year the gifts will be distributed to St. Francis Inn, Women of Hope, St. John's Hospice, and other neighborhood institutions that service the homeless and needy. The tree will be up starting Sunday, November 28, 2021.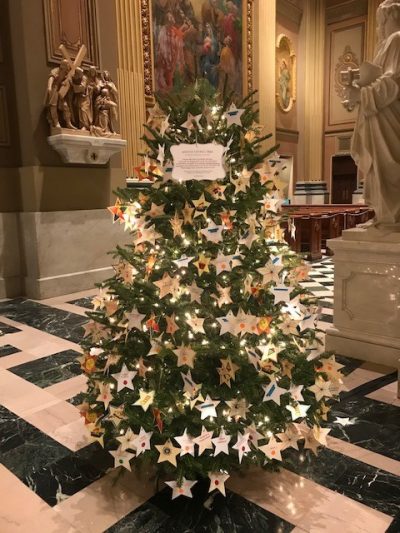 Please participate in the Advent Giving Tree! During the first weeks of Advent take a gift tag or tags. The gifts or gift cards may be dropped off in the Sacristy before or after Mass, or anytime during Cathedral visiting hours, wrapped and with the identifying tag on each gift by the Third Sunday of Advent, December 12, 2021. Gifts and/or gift cards may also be dropped off in person or mailed to the Rectory office at 1723 Race St. Philadelphia, PA 19103. This will allow for the distribution of these gifts for Christmas.

You can also donate on-line and just need to identify the gift for Advent Giving Tree on the subject line. 
Thank you in advance for your generosity to the many men, women and children who will benefit from your kindness this Christmas. 
Please don't leave the presents under the tree.
Thank you!