The Advent Giving Tree in the Basilica is decorated with gift tags that identify gift ideas for the less fortunate in our area.  This year the gifts will be distributed to St. John's Hospice, Visitation Community Center, the Little Sisters of the Poor Holy Family Home, the Sisters of Life maternity home, Guiding Star maternity home, Women of Hope, and the Hispanic Ministry.  We will also be helping twelve families who have requested assistance.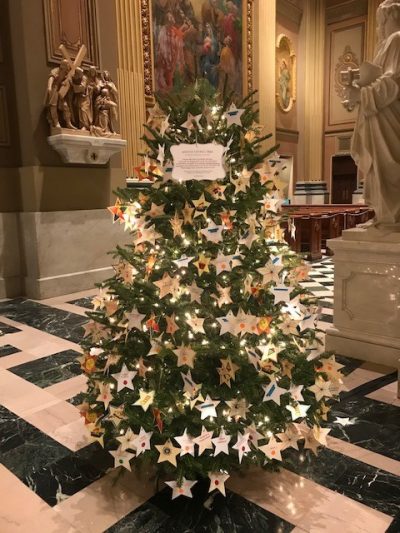 The Giving Tree will go up in the Basilica prior to the First Sunday of Advent, NOVEMBER 27th, and will be covered with decorative paper ornaments.  Each will have on it the name of a family/child or an item for one of the organizations. PLEASE TAKE ONE OR MORE ORNAMENTS and purchase a gift for that person or group.  RETURN THE ORNAMENT AND GIFT, UNWRAPPED but in a gift bag, along with a brief Christmas prayer greeting, to the parish office or give it to someone in the sacristy after Mass.  YOU MAY ALSO DONATE GIFT CARDS FROM TARGET, WALMART, WAWA, OR VISA; place in the collection basket at Mass in an envelope labeled "Giving Tree", or mail to the parish office. 
ALL GIFTS MUST BE IN BY THIRD SUNDAY OF ADVENT, DECEMBER 11th.
IF YOU HAVE QUESTIONS, please call or leave a message with Sister Mary Raphael, Outreach Coordinator, 215-561-1313, x 134.  Thank you for your generosity!
Gifts and/or gift cards may also be dropped off in person or mailed to the Rectory office at 1723 Race St. Philadelphia, PA 19103. This will allow for the distribution of these gifts for Christmas.

You can also donate on-line and just need to identify the gift for Advent Giving Tree on the subject line. 
Thank you in advance for your generosity to the many men, women and children who will benefit from your kindness this Christmas. 
Please don't leave the presents under the tree.
Thank you!