The Advent Giving Tree in the Basilica is decorated with gift tags that identify gift ideas for the less fortunate in our area.  This year the gifts will be distributed to St. John's Hospice, Visitation Community Center, the Little Sisters of the Poor Holy Family Home, the Sisters of Life maternity home, Guiding Star maternity home, Women of Hope, and the Hispanic Ministry.  We will also be helping twelve families who have requested assistance.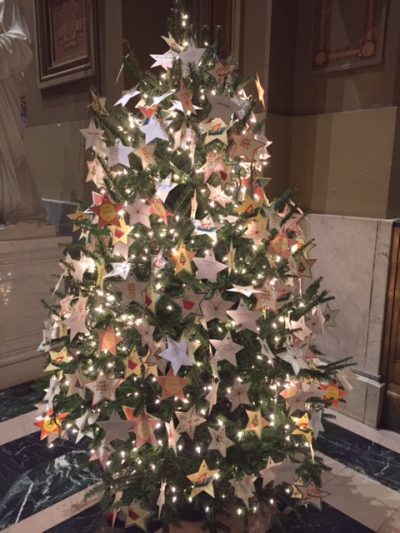 The Giving Tree is now up in the Basilica!   We will be giving wrapped gifts to a number of charitable organizations in our Archdiocese, and GIFT CARDS to at least 12 needy families.
To donate gifts to the organizations, please check out the Tree, remove however many tags you would like to take – a gift or gifts will be on the tag.  Purchase the gifts and return them, WRAPPED, ALONG WITH THE TAG(S) to the Basilica (you may give them to any sacristan or priest), or drop them off at the Parish Office at 1723 Race Street.
You may use our online giving platform to donate money to purchase gift cards for our FAMILIES (accessed via the DONATE button on our website).  Please indicate the amount of money you would like to donate to the Giving Tree in amounts starting at $25.  We will then use the funds to purchase gift card(s) from any of the following stores:  Target, Walmart, Dollar Tree, CVS, or Visa gift cards. 
You may use this link to access the fund (or go to our website):
https://www.osvhub.com/cathedralofsspeterpaul/giving/funds/giving-tree
PLEASE SEND YOUR DONATIONS BEFORE THE SECOND SUNDAY OF ADVENT, DECEMBER 10, TO GIVE US TIME TO PURCHASE AND DISTRIBUTE THE CARDS!  
If you have questions, please email Sr. Mary Raphael, Outreach Coordinator at the Rectory (sr.mraphael@archphila.org) , or call her at  215-561-1313, x134; feel free to leave a message if she is not there.
Thank you so much – GOD BLESS YOU FOR YOUR GENEROSITY!