sponsored by the Legion of Mary
Of the Cathedral Basilica of Saints Peter and Paul and the Shrine of Saint Katharine Drexel
Theology of The Body
 Why You Should Let God Lead Your Love Life
Sunday, May 28, 2023
1:00 PM ─ 3:00 PM
1st  Presenter: John Ciavarelii
2nd presenter: Deacon John H. Farrell (Spiritual Director)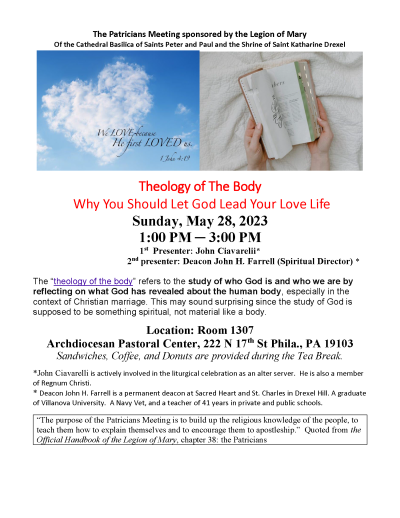 Eucharistic Revival
Sunday, June 25, 2023
1:00 PM ─ 3:00 PM
Presenter Fr. Dennis Gill
Every time we receive the body and blood of Jesus in the form of bread and wine, we are accepting God's sacrificial love for us. We are renewing the covenant he made with us to be our Father, and we his children. As we would hold a person of high stature in great esteem, even more should we offer our utmost respect and reverence to Jesus in the Eucharist.
Location: Room 1307
Archdiocesan Pastoral Center, 222 N 17th Street, Philadelphia, PA 19103
Sandwiches, Coffee, and Donuts are provided during the Tea Break.